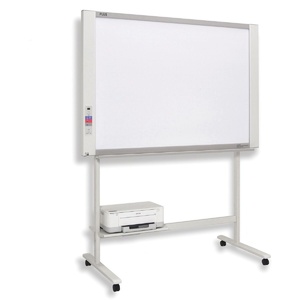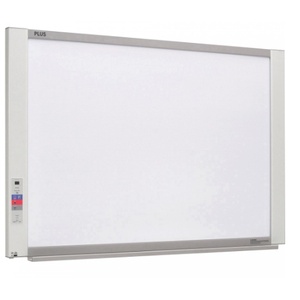 ---
When planning and ideation lay claim to your time every day, a traditional whiteboard may not be enough. This is where electronic smart boards come in. Combining the benefits of a conventional whiteboard with the capabilities of a workstation, electronic whiteboards are ideal partners too busy workplaces.
Boost efficiency with a smart electronic whiteboard
Essentially, an electronic whiteboard allows you to give shape to your thoughts and ideas and supports your efforts with features such as a USB PC interface, A4 printing capabilities, and the ability to save and display files in formats such as JPEG, BMP and PDF. Our collection features some of the top ranked electronic whiteboards on the Australian market, including sophisticated two-screen variants from Visionchart that can make presentations and brainstorming sessions a breeze.
Writing has long been a way of expressing and transmitting information and can be described as a kind of educational system. For many years, humans have had access to various methods of educational systems, among which audio-visual and written teaching aids have undergone a dramatic change, which can be referred to as optical pens, copy boards, electronic smart boards. Smart whiteboard, also known as an electronic whiteboard, touch electronic smart board- has two technologies, electromagnetic or magnetic and infrared (IR). The function of the smart board is that it is connected to the computer via a USB cable and the video projector device takes the image from the computer and reflects it on the board surface, and after calibrating the writing environment, it provides the possibility of recording and saving face operations. Takes text files, photos, and videos to the user.
What are electronic smart boards used for?
The smart whiteboard is a tool for easy and optimal transfer of classroom lessons and textbooks in a learning environment to students or presenting content in an office meetings and seminars. To make schools or conference halls smarter, you need additional hardware such as smart whiteboards - video projectors, laptops or computers, but of course the choice of digital smartboard is also of special importance in determining the quality of the school education class. These boards use electromagnetic technology, which enables writing and writing operations in a writing environment and working in other parts by means of magnetic pens. Electronic pens allow you to do this. To insert content more accurately, quickly and delicately than smart touch boards.
These smart whiteboards have dimensions of up to 82 inches of the active environment with a shortcut toolbar on both sides on the surface of the smart board, which allows the user to quickly access different parts. The surface of the magnetic whiteboard is made of nano-coating, which distinguishes this product from other brands of smart boards and causes the light reflection of the projector to be zero. For information on the purchase price of these boards, contact Office Corporate sales team to find out more about our whiteboards.
Smart board benefits for classroom & teaching
The main methods of using smart interactive whiteboards in teaching are:
Show pictures and videos
With interactive whiteboards in the classroom, dynamic images and videos can be used to enhance presentation content. This method develops dynamic media such as images obtained from the Internet extracted from Microsoft Word files or graphs drawn in graphs; It has a huge impact on students' learning and allows both the teacher and the student to achieve their educational goals. In principle, whiteboards are used to display audio, video, and text media to engage students more than just ordinary blackboards or screen projectors used with the boards.
Save teaching session
One of the uses of interactive whiteboards in education is to store lessons. Smart boards allow users to take notes or save a presentation. Students can use this feature to store their notes and class activities. Teachers can also encourage students to get up and do various activities, such as problem-solving through interactive whiteboards, and then save the solutions so they can refer to them again. In addition, the teacher can distribute the saved works to the students after printing. There are several interactive board software as on-screen storage tools that students can use to take a screenshot and show it to other students whenever needed to review previous lessons. Looking for some push pin board for your classroom too.
Resources
The use of smart whiteboards in the classroom has spread a lot because there are many files on the Internet that can be used by teachers to provide dynamic lessons. Using such extensive resources in education is very useful because it saves time and improves learning outcomes.
learning methods
Among the highest applications of interactive whiteboards in teaching, it is very important to provide different learning styles. For example, due to the existence of storage tools, one type of learning style can be used for auditory learners, or the smart board can be used by touch to change content by visual learners so that they can do everything in the classroom. Follow what happened. Facilitating different learning styles is one notable way to use interactive whiteboards in teaching.
Internet access
Using interactive whiteboards in the classroom provides instant access to all content on the Internet. This access is important because any questions that may be asked can be answered instantly via Google Search, which is readily available in audio, video, or image.
Interoperability
The use of interactive whiteboards in the classroom allows students to actively access and participate in content and receive instant feedback on proposed projects and learning materials. In this way, one student can sit at the computer and learn and analyze lessons with another student through interactive whiteboards. On the other hand, the whole class can also present and share their ideas and suggestions. In this way, interactive learning will also be promoted.
Storage and maintenance
One of the uses of interactive whiteboards in education is that it usually has the ability to store written lessons and topics. This is easily available on the iboard interactive whiteboard. Storing the concepts and ideas presented in previous lessons means that students can easily access the content to update their knowledge. In addition, students who were absent from class could have the opportunity to receive and review content through the boards.
Teaching games
Gaming is one of the ways that a smart board can be used in the classroom. Learning through games, such as picking up cluttered texts or dragging and matching images with texts, is possible through electronic whiteboards. This method is very useful for teaching children. Games can be designed with great variety by the teacher and have a direct impact on student learning.
Group interaction
Interactive whiteboards in the classroom are very useful for the purposes of participation and group discussion. The interactive factor is a powerful tool to increase creativity. Because the content displayed on the screen can be converted to written text and saved for sharing or later use. This method is used in group training when a small group is working on an article; it's too important. Because students can write their ideas on the interactive board in different places and then save the final result and share it via email or other networks. Also, you might need to have a normal whiteboard like glass boards in the classroom or in your office.
Smart board interactive whiteboard
Smart whiteboard is one of the new educational equipment that has replaced ordinary whiteboards in educational centers, universities and conference halls. Smart board is a tool that allows you to present your content in multimedia in classes and meetings. Working with an electronic board is very simple and similar to a normal whiteboard, with the difference that in a smart board you can display the contents and files stored on your computer and make changes to it.
Visionchart technology is one of the leading companies in the design and production of teaching aids and touch screens such as smart whiteboards, which launches its electronic board. The company has used new technology in designing smart boards and has marketed its smart whiteboards in different models, each of which has different technology in manufacturing and production. This smart board works with Ultrasonic technology and with its special pen, you can take control of the computer and run the software with a file and write it in any environment and save it on the computer. The sensitivity of this smart is high and writing and executing user commands is done without delay.
Technical specifications of smart boards:
* Technology: DSP Digital Ultrasonic
* Writing tools: by a special pen
* Has a hard and resistant plate (Enamel Steel) against impact, scratch-resistant and suitable for different weather conditions
* Has a USB port: To connect to a computer
* Whiteboard accuracy and sensitivity: 0.5mm
* Has shortcuts
* Ability to write on infinity page and save information on the computer
* Ability to save all actions performed on the whiteboard as Move on the computer
* Possibility of writing with ordinary magic on a smart computer and storing the contents written on the computer (in case of providing special magic holders)
* Possibility of installation on the wall or movable wheelbase
* Movable base: has a wheeled base with the possibility of 4 levels of height adjustment
* These smart whiteboard is equipped with shortcut keys for quick access to some of the required features so that the user can present their content more easily and quickly.
* The software of this electronic whiteboard is simple and the user can easily be trained and use it in the shortest possible time.
* Hard disk technology has been used in the design and construction of the screen of this smart whiteboard, and it has increased the strength of this whiteboard and reduced its depreciation.
* One of the outstanding features of this smartwatch that distinguishes it from other smartphones, is that this device becomes a copy and the ability to write with ordinary magic and save content on a computer or print them. (In case of providing magic retainer)
* If you provide this tool (Marker holder), your whiteboard is a copy of the board in addition to the smartboard. In this case, you can write on it with ordinary magic without the need for a video projector and save your content on the computer, or if Need to print in color or black.
* These smart boards work with the new Optical image touch system technology and can write with pen and finger tools. One of the unique features of this smart white is the ability to write two users on it at the same time. Due to the new technology used in the design and production of this device, the data transfer speed is high. This digital whiteboard has a hard screen (Aluminum) and is resistant to impact and scratches. The software of this device provides the user with various possibilities to communicate with the computer and store the contents in it. Check this category of large cork boards from different brands.
* This smart board is Dual User and can write two users at the same time with a pen and finger.
* The above whiteboard has two rows of shortcut keys on the left and right for quick access of some users to some of the required features.
* The software of this electronic whiteboard is simple and the user can easily be trained and use it in the shortest possible time.
* Unlike the old electronic whiteboards that were vulnerable, in designing and building the screen of this smart whiteboard from hard screen technology