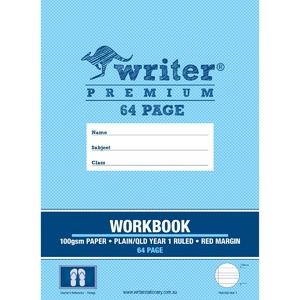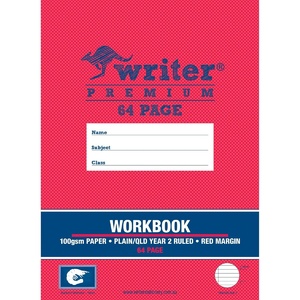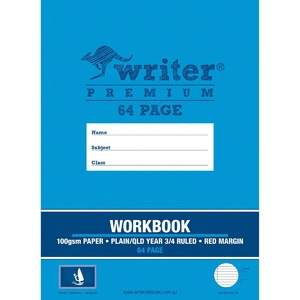 ---
Office Corporate is not just any average supplier. Our high-quality team prides itself on being Australia's trusted provider of all kinds of classroom essentials. We bring you products that not only help create a productive and engaging workspace but also tools that help you maximize your educational experience.
School Educational workbooks are just our many items that will take the classroom
Workbooks that make school fun! Office Corporate offers an exciting and engaging array of school work books for learning the alphabet, math problems, expanding vocabulary, and more! With colorful illustrations and fun characters to help guide kids through learning, our alphabet scrapbooks come in multiple options, so you can decide whether you want to teach print or cursive (or both)!
The perfect resource for any teacher or educator, our education workbooks are sure to set your classroom on the path to success by…
providing fun, step-by-step worksheets to coach students through anything they need to learn.
suiting a wide range of ages – our selection of education work books are perfect for anyone, from students who are just learning to read to students who need the premium, quality workbooks to hone more advanced writing skills. We know your students aren't one-size-fits-all, and we design our customized school work books to cater to the needs of every type of student imaginable.
creating a canvas for learning. With engaging illustrations, clear instructions, our school work books will elevate your students' quality of learning across the board, providing better short and long term results that are sure to improve your students' lives and make their parents proud.
Our workbooks are made with the highest quality materials and content to give your student the highest quality tools for their education.
No matter what you or your student needs to learn, our school work books will help you maximize your learning productivity.
Incorporate any one of our education workbooks into your learning routine!
Our alphabet scrapbook features writing, tracing, and drawing activities for each letter of the alphabet. With exciting drawings and illustrations of words that begin with each letter, this education workbook is not only informative and helpful but also fun! This school work book will help your student discover the joy of penmanship while teaching correct handwriting techniques and form. They also feature both printing and cursive options!
Our number of school work books help walk students through learning and familiarizing themselves with the number system with colourful and engaging pages. With detailed guides to numbering, this workbook will walk your student through the number system, leading them effortlessly to a complete understanding of counting, comparing, and ordering.
With our word book dictionary & thesaurus, your student will have everything they need in one book. With an easy-to-find alphabet reference chart, an alphabet guide on every page, and endless other fun and educational feature, this book is everything your student needs in their learning environment. Organized with different themes, students will see how what they are learning is relevant to their real life and everything in the world around them.
Premium Project school Work books are perfect for older students!
If you need high-quality, sturdy school workbooks that will last you through whatever your educational needs are, look no further than one of our Writer Premium Project Workbooks. With sleek heavy weight paper and crisp lines and ruling, these are perfect for any or your notetaking or writing project needs. With features including addition and multiplication tables, measurement system reference charts, and more, these school workbooks are not only canvases for your work but bring information with them whenever you use them.
With customizable fronts to easily identify the subject, our premium project workbooks not only create a high-quality space for your work, but will also help you stay organized!
Education & School Workbooks that set your student on a path to success.
No matter what you or your student needs to learn, our school workbooks will help you maximize your learning potential. Learning to read and write are some of the earliest and most important tools for understanding and processing the world and what it has to offer. We know that teaching or learning those skills can be overwhelming or intimidating, which is why we have carefully crafted our workbooks to make your student's learning as fun as it is powerful. With bright colors and illustrations, engaging pictures that connect what your student is learning with the world around them, these workbooks unlock and excitement and joy of learning.
Our workbooks, made from the highest quality material, help your students achieve the milestones they need to when they need to. With extensive, thorough, and well thought out educational components, these school work books are everything that your student needs to set them on the best track to becoming effective and powerful learners and communicators throughout life.
We understand the importance of balancing guidance with individual creativity. Our school work books are a perfect combination of pages that provide detailed and specific instructions and pages that provide a space to practice taught skills and for students to push themselves to create original work. Worksheets and writing and counting activities in each of the school workbooks teach students the skills they need to start writing on their own, and practice sheets provide a perfect space for students to start putting those skills to act more on their own, effectively equipping them to progress further and further toward a more independent and self-directed learning style.
Should you have any questions about our products, our dedicated and knowledgeable product specialists are always on hand to help. Our customer service team is committed to providing you with the tools you need at the best possible price, and we'll do whatever we can to help you meet your goals.
Heard about our price beat promise? Should you find one of our stock items for cheaper elsewhere, we won't just match the price, we'll beat it. We'll offer you 2% less than competitors.
What's more, with regular specials and rewards for returning customers, we guarantee your educational workbook purchase from us won't be your last. Sign up with us to start earning reward points on every purchase. Get one point for each $10 you spend, and trade in your reward points for 10% off anything on our online store. Sounds like a bargain to us!
First-time customer? Check out our Instant Rewards page to view a range of promotional codes as our gift to you on your initial purchase. Also, head to our Business Rewards page to view the amazing rewards you could reap by choosing Office Corporate as the go-to supplier for your business.