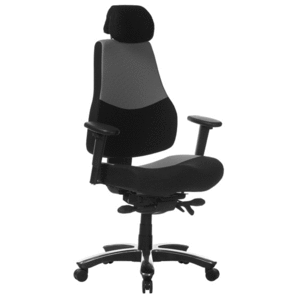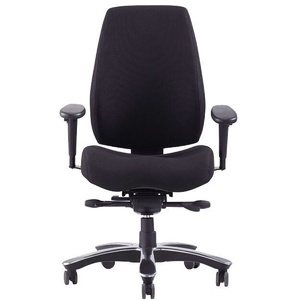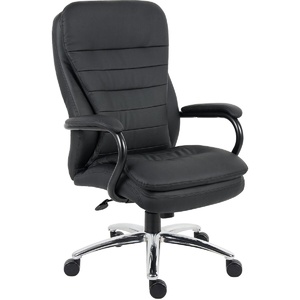 ---
Be at the top of your game as you tackle a busy workday on a superior heavy duty office chair from Office Corporate. Our range of seating options is made to perform with unrivalled support, unmatched durability, and extreme comfort.
Heavy duty office chairs that perform so you can do the same
Office Corporate's heavy duty computer chairs are expertly designed for the ultimate peace of mind for users that require a computer chair with a higher back, a wider seat, or superior support. Crafted from first-class materials and designed with your comfort, health, and safety in mind, these options are the must-have addition to your office space, at home or work.
We're all unique. Shouldn't you invest with a chair specifically designed with your needs in mind?
Office Corporate stocks a range of heavy duty computer chairs for taller or larger individuals, or simply employees looking for an option that will effortlessly withstand the demands of a gruelling working day. With employees spending more time on the job than ever before, the need for reliable office furniture has never been greater. Our choices are up to the task with strong, steady bases, and expert construction that ensures long-term durability.
Not only are our options constructed with resilience, performance, and comfort in mind, these chairs also prioritise your health. Our choices are ideal for larger or taller employees looking for an ergonomic office chair tailored to their unique requirements.
Not only does Office Corporate fulfil your need for a high-performance seating option, but we also ensure that you can purchase your preference easily and affordably. Shop for the perfect desk chair online, from the comfort of your home, and benefit from the best prices on quality seating solutions. With fast shipping around Australia, your premium seating solution will be at your door in no time.
Superior heavy duty computer chairs: Long-lasting performance
Office Corporate's heavy duty office chairs outlast the rest. Customers all around the country rely on us to meet their specialised office furniture requirements because we've become renowned for our commitment to ensuring quality solutions that perform for longer.
Our heavy duty seating options are no different and provide secure, stable seating for the long-haul. We stock options with a warranty of up to 10 years. Here's why our seating options can be trusted to deliver better results for longer:
Expert construction: Our chairs have been developed by the leaders in office seating solutions. The expert construction of our chair options complies with the highest quality standards including AFRDI Level 6 which means these chairs have been quality tested under severe conditions of use.

Reliable materials: With bases in materials such as premium heavy duty chrome and sturdy aluminium, our chairs stand the test of time. With our options, you can rest assured that no mechanism or feature has been overlooked and that each feature has bee crafted from high-performance materials.

Reinforced seat bases and backs: Not only are our chairs constructed with high-grade materials, but they are also reinforced for even better strength and enduring performance. Invest in an option with a reinforced back and base for a chair that will go the distance.
Heavy duty computer chairs: Ergonomics, health, and safety are key
Office Corporate's heavy duty office chairs cater directly to your need for a strong, high-performance seat, but they are also constructed by experts with ergonomics in mind.
While many brands advertise their products as premium office seating solutions, few of these are ergonomic. Ergonomic options are designed to facilitate healthy posture, great support for all the pressure points that matter, and comfort, allowing you to perform at work at your peak.
Standard ergonomic chairs may not qualify as ergonomic for every individual. If you are a larger or taller person, a standard ergonomic chair may not effectively support your back and neck or provide your spine with the support required. Office Corporate's options will effortlessly cradle your spine and lower back, securely support your neck, eliminate pain and unnecessary stress on all of your pressure points and provide a comfortable padded seat for hours behind the desk.
Our range of 150kg+ heavy duty chairs are ergonomic for taller or larger workers due to the following reasons:
Capacity: The use of an office chair that is not sturdy or reliable enough may put you at great risk of injury. We've specifically sourced heavy duty seating options with a weight capacity of up to 200kg ensuring that you can not only trust your chair to support you, but you also remain injury-free.

Adjustability: One of the key features of an ergonomic seating choice is the ability of the chair to be adjusted to further fit your body perfectly. Our options easily allow you to adjust just about every element of your chair including seat height, seat and back angle, seat depth, weight tension, headrest, and chair arms. Provide your back, neck, legs with the perfect support tailored to you with our adjustable chairs.

Width: Our seating options are the ideal solution for customers looking for a comfortable, wider seat. Whether you prefer a saddle seat or a premium inject foam cushion, our choices are the right fit. With our adjustable arms, you can also easily manoeuvre into and out of your chair.

Synchro Mechanisms: Office Corporate's heavy duty options utilise the latest innovations to take the adjustable power of our options up a notch. We stock chairs with ingenious synchro mechanisms that simultaneously tilt the backrest and the seat of your office chair as you lean back for even greater support.
Office Corporate: Your access to specialised heavy duty office chairs & furniture
Office Corporate is the online home of heavy duty office chairs and a wide range of specialised office furniture developed for every need.
While you are completing your heavy duty seating purchase, consider our sit-stand desk converters, active chair options, chair mats, desks and workstations, and much more. We can't wait to be your long-term provider for quality office stationery and furniture solutions.